The Information and Public Relations Department of the RA Police hosts a regular press conference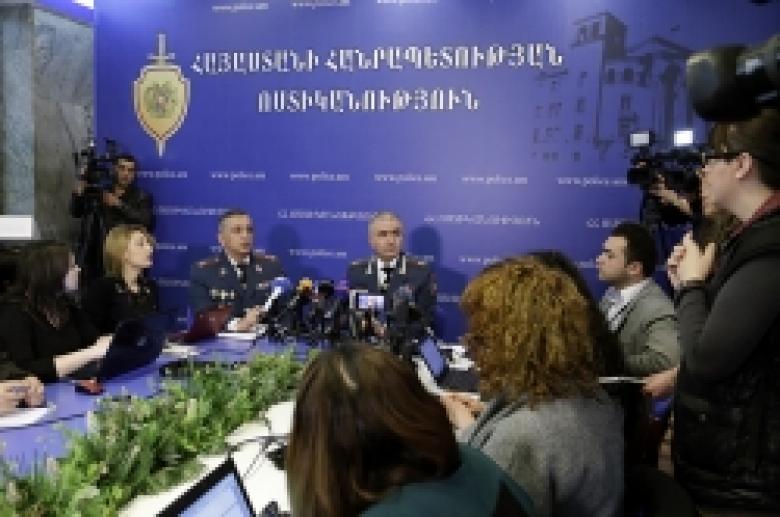 On Thursday, April 16 Information and Public Relations Department of Police of the Republic of Armenia hosted a press conference with First Deputy Head of the RA Police, Lieutenant General Hunan Poghosyan.
During the meeting Mr. Poghosyan provided an overview of the work carried out by police services and territorial bodies during the first 3 months of this year.
Thus, during the first three months of 2015 the criminal situation was kept stable across the entire republic. Consequently, the number of registered crimes has reduced by 665, which has mainly been conditioned by the reduction of crimes against property, public order and public health.
As compared to the same period last year the number of grave crimes has decreased by 95. There has also been a decrease in the number of thefts, banditries, breaks of traffic rules. While the number of murders, attempted murders, intentional inflictions of damage to health and counterfeinting has increased.
During the last three months193 cases of illegal turnover of firearms and ammunition have been detected, 270 items have been handed in to the the Police by dozens of citizens.
Alongside with the increase in the number of firearms-related crimes, the detection efficiency has also increased.
Thanks to the preventive measures taken by Police, there has been a reduction in the juvenile deliquency and repeated comission.
During the past three months 372 wanted people were located and brought to justice.
At the end of the meeting Hunan Poghosyan answered all the questions posed by the journalists.