International conference on «Women in law enforcement» held in Bishkek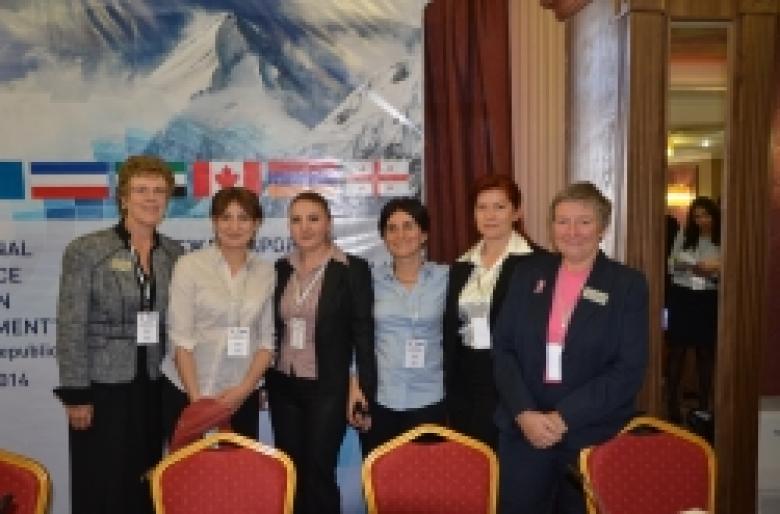 International conference on «Women in law enforcement» organized by the Ministry of Internal Affairs of Kyrgyzstan in cooperation with the OSCE took place in Bishkek on Tuesday, October 16, 2014. The conference was held within the framework of the OSCE's "Community policing" project and brought together about 100 representatives of law enforcement agencies, civil society and international organizations from various countries.
The Armenian delegation included: Head of the Division of Reforms and Coordination of managerial decisions of the Organizational and Analytical Department of the RA Police Headquarters, Police Lieutenant Colonel Liana Amirkhanyan, senior inspector at Arabkir community police unit, Police Major Marina Verveka, representative of the OSCE office in Yerevan Laura Hayruni and member of the public organization «Social Justice» Gayaneh Hovakimyan.
Gender equiality within law enforcement agencies, the role of women in policing and their contribution to peace and security were explored at the one-day meeting. Suggestions were made to promote the role of women in the security sector, defense, law and order and emergency situations, increase the representation of women in law enforcement and involve them in the decision-making process at various levels.
It should be noted that at the initiative of the OSCE office in Bishkek Armenian delegation had visited the Kyrgyz MIA on Monday, October 15, 2014, where the delegates met with Kyrgyz officers of the Reforms division, as well as Subdivisions on community policing and gender equalitiy.
In Bishkek the Armenian delegation also visited the Central Community police station and the Operation Control Centre.