Police Chief Vladimir Gasparyan receives the U.S. Ambassador Extraordinary and Plenipotentiary to Armenia (VIDEO and PHOTOS)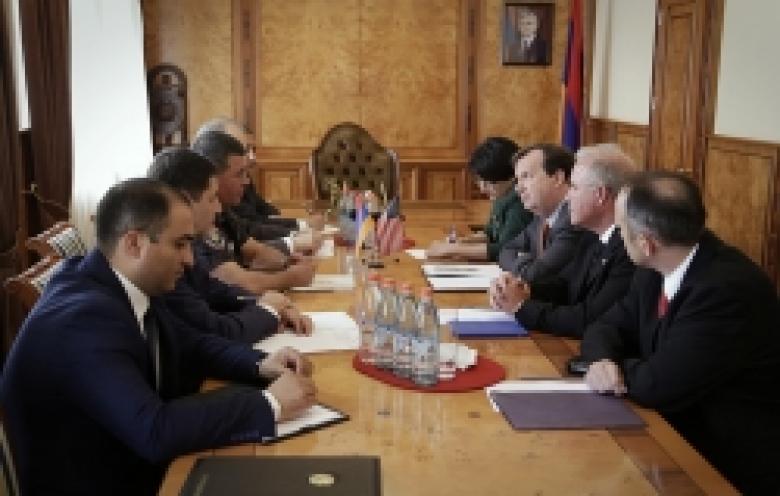 On Thursday, June 2 Head of Police of the Republic of Armenia, Lieutenant General Vladimir Gasparyan met with Mr. Richard Mills, Ambassador Extraordinary and Plenipotentiary of the United States of America to the Republic of Armenia and officials accompanying him.
Greeting the guest, Mr. Gasparyan highlighted the importance of the well-established cooperation between the Armenian Police and the U.S. Embassy in Armenia, in particular within the context of the American experts' significant assistance in the consistent process of implementation of police reforms and modernization of the police system.
Richard Mills introduced Mr. Ady Holloway, Senior adviser at the U.S. Embassy's International Narcotics and Law Enforcement Section and expressed his satisfaction that through him the U.S. Embassy in Armenia can work directly with the Police Chief and the Police leadership.
"I am pleased that the Embassy, through our Police Adviser position, is able to directly liaise with you and others in the Armenian police force leadership. We are proud, - the Ambassador Extraordinary and Plenipotentiary said, - to work in partnership with You and to share experience related to various law enforcement approaches".
Touching upon the positive shifts made in the activity of the Armenian Police, Richard Mills noted that maintaining public trust and ensuring citizen security are challenges law enforcement faces around the world, but are necessary for a strong and stable society. We have seen many positive developments from law enforcement in Armenia over the years, and are encouraged that the police force and political leadership have met these challenges through improvements in stopping human trafficking, counter-narcotics, and managing protests, among others.
During the meeting held in a friendly and constructive atmosphere the two sides also discussed a number of other issues of mutual interest.